Thursday, July 13
@
9:00 am
–
11:30 am
Five Thursday mornings
9-11:30am
July 13, 20, 27, August 3 and August 10
@ Woolman Hill, Deerfield
Temple Israel members: $20/weekor $90/ 5 weeks; $10/week for each additional kid
Non-members: $25/week or $110/ 5 weeks $10/week for each additional kid
Register for individual weeks or for the whole 5 weeks below! Any questions, contact Megan at [email protected].
​​Shomrei Adamah: We're In Our Element!
Join us at Shomrei Adamah this year as we connect to nature by exploring the elements! Through song, prayer, art and play we'll learn about the land around us and how our Jewish practice can bring us closer to our place on this earth and to each other. Each week we'll dive into a specific elemental theme, with our final week bringing it all together! Come for one session or all – this program is designed for drop-ins, including the final session!
Earth (July 13th) ~ Join us for earth week as we get acquainted with our home at Woolman Hill for the next few Thursdays! We'll plant radishes, walk a beautiful nature trail, and make some art with earth elements we find along the way.
Water (July 20th) ~ For water week we're excited to learn songs about "mayim" and try some great watery crafts like natural tie dye and water coloring.
Air (July 27th) ~ Let's go fly a kite… and bird and butterfly watch! During air week we'll turn to the skies for inspiration, with some aerial themed crafts and songs.
Fire (August 3rd) ~ Find a seat by the campfire! We'll build a fire, roast some snacks, play some games, and learn about this powerful element while exploring the fire within us all!
Unity (August 10th) ~ Let's bring it all together! Whether you've been to all five sessions, or this is your first time joining us – come to unity week to enjoy a day dedicated to loving the land, sky, waters and flames that have made Woolman Hill what it is today. We'll review Hebrew words, learn about the history and present of this land, and say goodbye to a great summer at Woolman Hill!
Covid Information: This program is outdoors. We'll be inside only if there's serious rain. Masks are optional. Please stay home if you or anyone in your home has tested positive for COVID 19. If you're not sure whether or not to attend, please contact the educators.
Accessibility Information: This is mostly an outdoor program where we'll be in the woods and in open green space. We provide a gentle, creative and engaging format to the morning with a healthy and substantial snack. This is not a drop-off program. Caregivers are expected to stay with kids during the program. Some weeks we'll have access to a building for bathroom use and in case of rain. Other weeks we'll be entirely outside. Bathrooms are wheelchair accessible. If you're interested in attending and you or your child has accessibility needs, please contact [email protected] to ask about more detailed accessibility information.
This program is supported by the generous funding of the Harold Grinspoon Foundation.
Shomrei Adamah Educators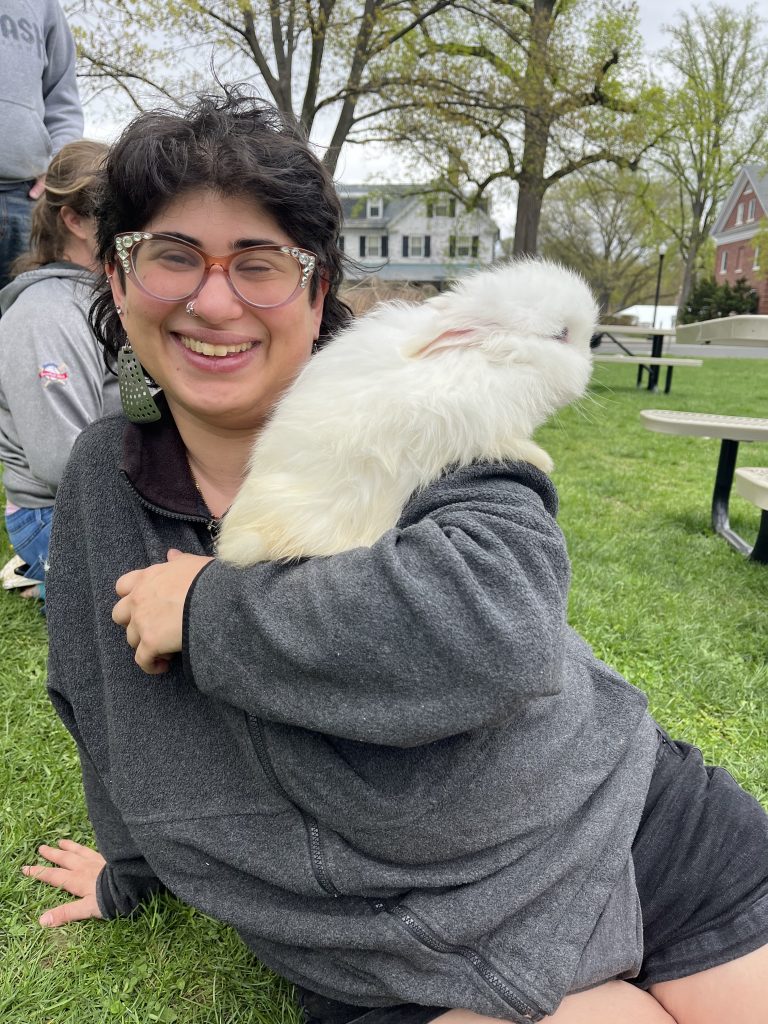 Megan is so excited to be co-facilitating Shomrei Adamah this year. Time in nature, youth work, and Jewish education are all things Megan loves and getting to combine them is going to be a treat! Megan comes to this work with many years of experience in Jewish organizing, and over a decade as an educator for folks of all ages! They are also leading this year's new teen program, Living Justice, and are really looking forward to the chance to meet more families, and expand their connection with the Temple Israel Community.
Nina comes to Shomrei Adamah with over a decade of experience farming in the Valley. They are the garden manager and educator at Sinai Temple in Springfield, where they love the opportunity to work with people of all ages to deepen their connection to place and our tradition. They are excited to bring what they've learned to Temple Israel's Shomrei Adamah program this summer!